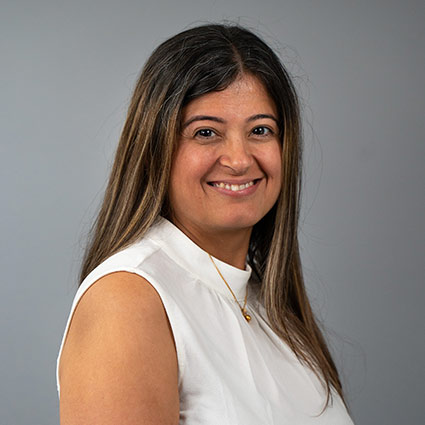 Meet Urvashi Krishnan
Physiotherapist
Urvashi loves sharing her enthusiasm for healthy living and fitness. With a passion to educate and inspire her clients, Urvashi's goal is to make lasting changes in her patients' lives and empower them to achieve their goals. Her focus is to uncover the origin of the problem, address the issue and attain the highest level of function possible. She believes in providing her patients with the confidence to take ownership in their recovery.
Urvashi graduated in 2006 with a Bachelor of Physiotherapy from Indraprastha University in India. She has a keen understanding biomechanics and the physical demands required to achieve performance excellence. With years of clinical experience, knowledge and a high degree of cultural sensitivity, Urvashi is experienced in treating orthopedic, soft tissue and sports injuries with a focus in treating clients suffering from whiplash and other injuries due to motor vehicle accidents. Urvashi also enjoys working with high-functioning clients dealing with deficits from Stroke, Parkinson's, Multiple sclerosis, or other neurological conditions.
Urvashi believes that rehabilitation is a team effort and prides herself in taking the time with her patients to ensure they fully understand the injury and treatment plan.
To achieve the best outcome, she uses an individualized treatment approach that incorporates education, manual therapy, soft tissue release, taping, dry needling, shockwave therapy and specific exercise prescription.
Urvashi believes in the concept of lifelong learning. She has completed certification courses to further her knowledge in Integrated Dry Needling, K-taping, Pilates, Active Release Therapy. Urvashi also plans to pursue other courses in Pelvic Health to aid pregnant women struggling with incontinence.
When she is not treating patients, Urvashi remains active by practicing kickboxing and lifting weights at the gym. She also enjoys running outdoors and sprinting. She loves eating out and exploring places in the city. Above all, she loves spending time with her family.
NEW PATIENTS

---
| (416) 489-0077