Acupuncture in Midtown Toronto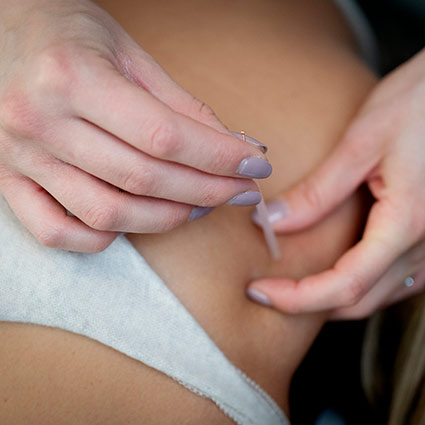 At
Urban Health Group
, we offer Contemporary Medical Acupuncture, also known as Neurofunctional Acupuncture, to decrease your experience of pain & promote your body's ability to heal itself.
This natural, noninvasive therapy is an easy way to boost your health without medication. If you want to speed up recovery times and achieve peak wellness, acupuncture may be a great add-on to regular chiropractic care or physiotherapy.
Whole-Body Benefits
This technique improves health by stimulating chemical changes both in local tissues and throughout the nervous system. It reduces inflammation, increases the flow of blood and oxygen to target areas, and increases tissue healing. This can decrease pain by triggering your body to release natural analgesics and relieving trigger points and muscle tension. We can also activate the parasympathetic nervous system, improving your relaxation, sleep, and recovery.
Pain-Free, Relaxing Sessions
We use very thin needles at target sites along the body to unlock the specific health benefits that would most impact you. You don't need to worry about pain when you come in. These needles are far more delicate than those used at the doctor's office when giving a shot or drawing blood. Some people do feel minimal discomfort while the needle is going in. There shouldn't be any pain or discomfort after it's in. Most of our patients say our sessions are relaxing.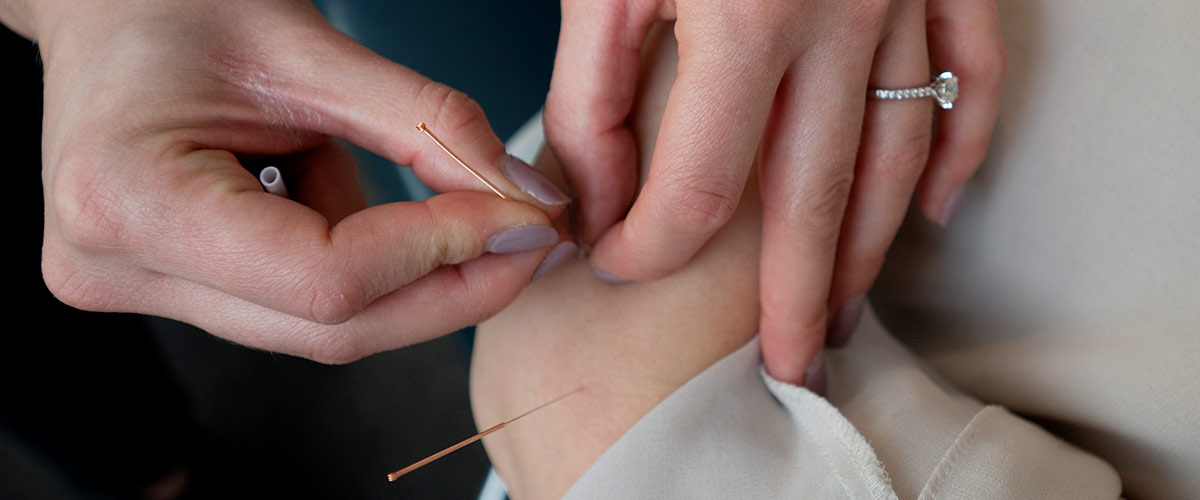 Conditions We See
We recommend this service for patients experiencing pain anywhere from the back, neck, and shoulders to the hips, knees, or jaw. It is effective for headaches, acute injuries like sprains and strains, and chronic pain resulting from repetitive and overuse injuries. It can also help reduce muscle tension and release tight trigger points anywhere in the body.
The benefits of this therapy extend far beyond pain relief. We've seen it help patients with strange neurological sensations like numbness, burning, or tingling. We can even minimize chronic stress, difficulty sleeping, and an inability to relax by engaging the parasympathetic nervous system.
Facial Acupuncture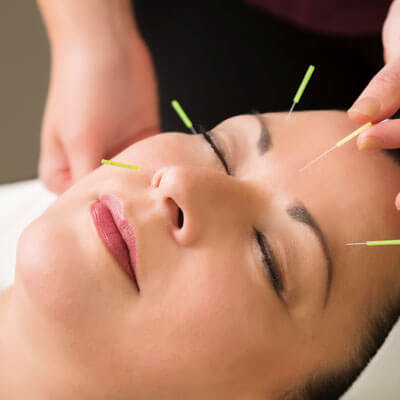 Facial acupuncture is a holistic alternative to aesthetic procedures like Botox or fillers. Certified in this technique, Dr. Emily uses it to rejuvenate skin, targeting wrinkles, and conditions like acne or rosacea. If you're curious about it, she'd love to chat more with you at your next visit!
What is It?
Facial acupuncture involves tiny needles (like traditional acupuncture) inserted into the face, stimulating collagen production to enhance skin elasticity and texture. It's ideal for those seeking a rejuvenated look or even dealing with specific skin issues.
The journey starts with a dermatological intake where Dr. Emily gets to know a patient's concerns. Then, you'll be introduced to facial acupuncture through mini treatments. While every session is unique to each patient, most targeting deeper wrinkles will require one session per week for six to twelve weeks, with maintenance treatments scheduled based on individual needs.
Each session lasts 45 minutes to an hour, concluding with a guasha treatment. This method relieves muscle tension, reduces swelling, and promotes a lifted, tighter skin appearance.
An Ideal Addition to Chiropractic
or Physiotherapy
We typically recommend this as a complimentary service alongside chiropractic care or physiotherapy. If desired, we can schedule a separate appointment just for acupuncture.
Our practitioners always start with a thorough assessment to check for any contraindications and make sure you're a good candidate for this technique. We keep care safe so you don't have to worry and can let your muscles—and your mind—relax.
Help Your Body Heal Today
Better health is more doable than you thought. Schedule an appointment today to get started with natural health care.
CONTACT US »
---
Acupuncture Midtown Toronto, Yonge and Eglinton ON | (416) 489-0077