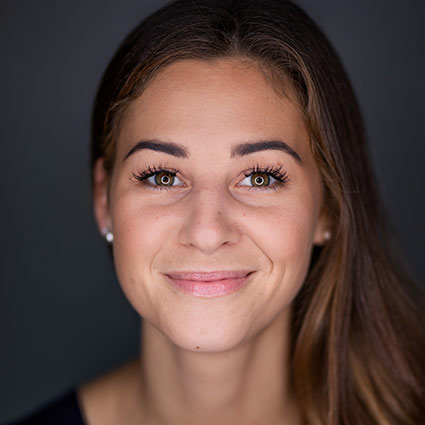 Meet Dr. Christina Mallinos
Chiropractor
Dr. Christina Mallinos was first introduced to chiropractic at a young age. Growing up a competitive gymnast, Dr. Christina chose chiropractic care as a safe and natural way to support proper function throughout her development, and manage her injuries. In receiving regular adjustments, Dr. Christina noticed a substantial improvement in her chronic headaches, which sparked her early interest in manual therapy, wellness, neurology and anatomy.
Dr. Christina Mallinos graduated from York University with an honors degree in Kinesiology. She then went on to attend the Canadian Memorial Chiropractic College, where she completed her Doctor of Chiropractic degree, and graduated with clinic honors. In addition, Dr. Christina has attained a certificate from the University of McMaster's Contemporary Medical Acupuncture program, and has completed continuing education credits in custom orthotics. In addition to her chiropractic practice, Dr. Christina teaches anatomy, pathology and orthopedic testing at The College of Massage and Hydrotherapy.
Dr. Christina is motivated by a strong desire to help people master their bodies, so that they can accomplish all that they wish to in life. She is committed to providing honest, efficient and effective care, and engaging patients to become active participants in their treatment plan. Though she has helped many patients overcome pain and injuries, she believes that chiropractic care is best utilized regularly, to optimize wellness and prevent symptoms of pain.
Whatever your health goals are, Dr. Christina looks forward to working with you to achieve them.
Outside of the Office
Dr. Christina grew up in Toronto, Ontario and attended Leaside High School. She loves exploring the city, and trying new restaurants. She enjoys cooking, travelling, keeping active through hot yoga, and strength training, and looking at pictures of people's pets.
---
Meet Dr. Christina Mallinos | (416) 489-0077