Meet Dr. Stephanie Gaston
Chiropractor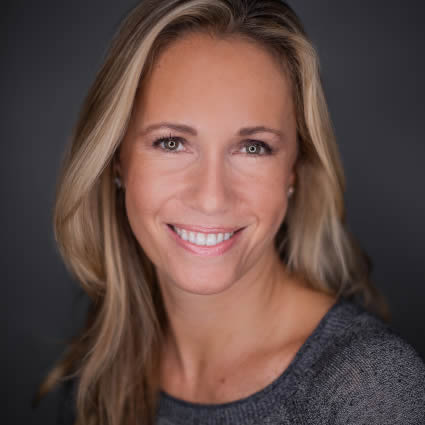 Dr. Stephanie Gaston, a Toronto native, has been a chiropractic patient since she was five years old. Unlike many chiropractors who had some childhood experience where chiropractic care saved them from a debilitating injury or some chronic condition, chiropractic was introduced to Dr. Stephanie as a normal part of life. Her mother, a very progressive woman, simply saw the value of preventive healthcare and began taking her children for monthly maintenance checkups and adjustments.
"Chiropractic has always been a part of my life," says Dr. Stephanie.
As a teen exploring her options for a career, becoming a chiropractor seemed a natural way to mesh the views she'd developed regarding health with her love for math and science. "As a chiropractor, I work with the body – not against it," says Dr. Stephanie. "I enjoy working with people who are seeking health, being a part of true health care instead of sick care."
Dr. Stephanie attended the University of Western Ontario from 1987 – 1990 and earned a degree in Biology. She then moved on to study at Canadian Memorial Chiropractic College, graduating in 1994 as a Doctor of Chiropractic.
Initially she moved to Vancouver, where she purchased a small practice and successfully built it into a high-volume one over a period of seven years. "While on maternity leave after giving birth to my first child, I decided I wanted to come home to Toronto." She sold her Vancouver practice in 2001, returned to Toronto, and has been practicing here at Urban Health Group ever since.
NEW PATIENTS

Outside of the Office
Married with three children, Dr. Stephanie is passionate about family wellness and chiropractic care beginning at birth. Her teenage son and twin grade-school daughters were each adjusted within hours of birth. Although she recommends early chiropractic care for all newborns, Dr. Stephanie's three children all needed to be adjusted for different reasons. Her son had a posterior delivery, which placed a lot of strain on his spine. And her daughters – as is common with twins – had been cramped in utero, while one of them experienced a stressful breach delivery.
"I continue to be motivated by a desire to help people," explains Dr. Stephanie. "I've been here 20 years now and I feel like I have known my patients that long – as if I get to come to work each day and visit with old friends all day."
Even in this big city, Dr. Stephanie brings a local, neighborly feel to her practice. She gets to know patients, is connected throughout the local community, and maintains a comfy inviting space that makes patients feel welcome.
---
Meet Dr. Stephanie Gaston | (416) 489-0077